COVID-19 Resource Page for Manufacturers

During this unprecedented time, Maine MEP is here to help. This page focuses on valuable local, state and national resources, to assist you with COVID-19 related concerns for your company and your employees. You will find a list of small business resources and information about local manufacturing of medical equipment.
Maine MEP Advisors are available for free remote crisis response consultations.
We can be reached by phone: 207-623-0680 (or 800-MEP-4MFG) and email: contact@mainemep.org.
Support and Problem Solving
Remote consultations and facilitation to rapidly apply problem-solving methods to operational, workforce, supply chain, cash flow, business continuity and other issues as well as support in planning future recovery and resiliency responses.
Assistance to find solutions to current and anticipated disruptions in supplies of raw materials, parts, and other necessities. Maine MEP can quickly tap into the MEP National Network with 1200+ network advisors across all 50 states and Puerto Rico plus other federal and Maine resources.
Re-deployment of Resources and/or Re-Tooling
Assistance responding to critical needs for healthcare supplies and equipment. Assistance could take many forms including identifying opportunities, assessing feasibility and gaps, line layout, distribution channels, connections with other manufacturers and technical resources, and methods for rapidly retraining employees.
We are helping manufacturers match furloughed workers with manufacturers looking to increase staffing. Contact us to learn more.
Reeducate employees on preventing virus spread.

Review and revise cleaning schedules for common areas

Work with local health professionals

Communicate promptly

Develop a Business Continuity Plan: Here are two useful guides Business Continuity Plan 1 or Business Continuity Plan 2

Disaster Recovery Plans: Many Maine MEP clients have disaster recovery plans associated with their ISO certification. Please make sure to revisit and update these plans as necessary.

Determine supply chain disruption risks. Check out this supply chain disruption checklist created by our partners in Illinois.

IT System preparedness and plans for remote working may be necessary

Review your insurance coverage to understand scenarios where you are covered, and potential holes.

Review local and national financial resources.
Steps That You Can Take Now
Cloth Face Covers
and other Personal Protective Equiptment
Maine manufacturers are developing solutions to address the needs created by COVID-19. We have collected a list of some of these manufacturers below. Please contact us if you would like to be included.

Cloth Face Covers Sold by Maine Manufacturers
320ink (Westbrook) Large orders, customized masks & wholesale info: seth@320ink.com

CM Almy (Pittsfield)

dac3D: (Biddeford ME) David Capotosto: 207 468 8545 or davidcap@dac3D.com
Hallett Canvas and Sails: (Falmouth ME) mhallett@hallettcanvasandsails.com or 207-781-7070

Highland Belts and Fine Leather: (Brewer ME) asutton@highlandbelts.net or kbutler@highlandbelts.net

The Strainrite Companies: (Auburn ME) Cathy Proctor, 207-376-1693 for orders of 1,000 or more per order/ will provide specs and cost upon contacting

WS Emerson (Bewer ME)

Wholesale Sales of Cloth Face Covers
Retail Sales of Cloth Face Covers
We have compiled a list of maine companies making cloth face covers. Click the links below to order directly. Please be aware that orders are very high and some may have backlogs.

The Centers for Disease Control and Prevention recommends wearing face coverings in public settings. Click on the image below to visit the NIST blog where you can watch a video of the effect a face cover has on airflow out of our mouths and nose.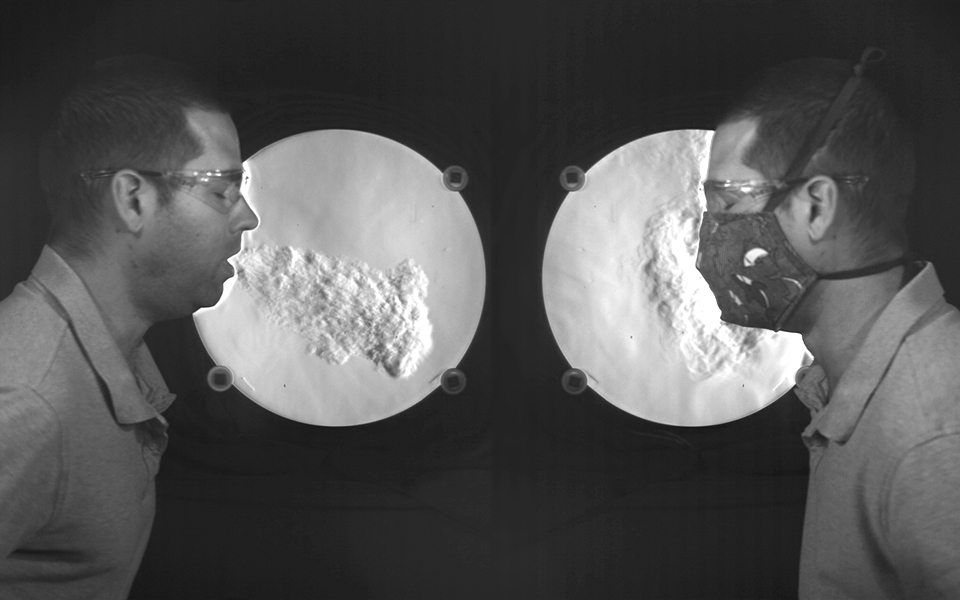 Organizations Accepting Donations of Face Coverings

Maine-made hand sanitizer for consumer use

Hardshore Distilling (Portland): 70% alcohol formulation – learn more/order for curbside pickup

Sebago Lake Distillery (Gardiner): Information about hand sanitizer available on their Facebook page

Split Rock Distilling (Newcastle): 80% alcohol formulation available for pickup or shipping
Mossy Ledge Spirits (Etna): Information about hand sanitizer available on their website and Facebook page
Nautilus PPE: Dave Tomer, 617-750-7462
The above distillers are partners in UMaine's hand sanitizer production, along with New England Distilling, Blue Barren Distilling, Chadwick's Craft Sprits, Wiggly Bridge Distillery, Round Turn Distilling and Three of Strong Spirits. Brewery partners include Allagash, Maine Beer Company, Rising Tide, Foundation, Oxbow, Shipyard, Baxter, Threshers and Tumbledown.

Artisan Distillery (Oxford): Contact Stuart Littlefield at 207.890.5959 jlittlefield11@roadrunner.com (70% alcohol, various sizes available).

Resources for Manufacturing Face Coverings and Isolation Gowns

Maine distributor of medical equipment (apiary medical) has 3ply medical masks, face shields and KN95s and antiseptic rub available for purchase here.

For Isolation Gowns please contact CM Almy
Maine Small Business Resources
Workplace Safety Resources
Small Business Administration Loans Maine businesses are now eligible to
apply for economic support loans to help them overcome any temporary loss of revenue due to COVID-19. More information can be found here.
Here is what businesses need to do to apply for a disaster loan.
Personal financial statement.

A schedule of liabilities.

A copy of your most recently filed federal income tax return.
Consumer/sole proprietor loan guarantee program will assist Maine
individuals with no-to low-interest consumer loans through a loan guaranty program involving FAME and Maine's banks and credit unions.
Learn more at FAME Maine.
Unemployment Insurance eligibility for unemployment insurance has been
extended to individuals whose employment has been impacted by COVID-19. It also
temporarily waives the one week waiting period for benefits so that workers may obtain benefits faster and ensures that claims for UI will not affect an employer's experience rating.
Governor Mills Emergency Legislation
Governor Mills passed emergency legislation on March 17 th to help Maine businesses and individuals affected by COVID-19.
Read the Governors update here.
Maine MEP will be contacting manufacturers over the next few weeks to
understand how COVID-19 has impacted your business and to offer assistance.
For help responding to the COVID-19 emergency or for general questions:
Copyright © 2020. All rights reserved.